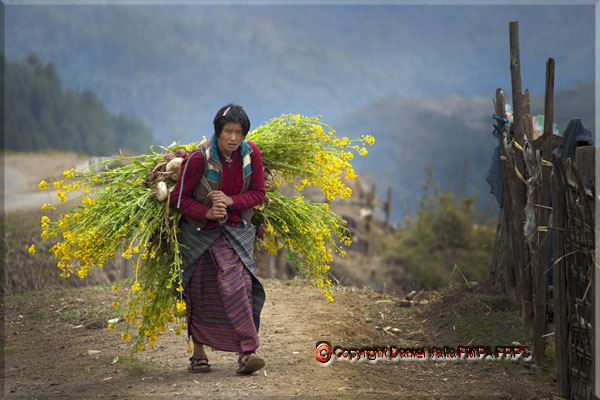 Young woman farmer carrying rapeseed crop on her back
Wangdue province, Bhutan, March 2009.

An example of complementary colours is this natural portrait of a young woman in totally natural surroundings..
The hazy blue background vs the yellow, the carmine-red clothes vs the green stems of the crop.
.
This shot was taken with the Canon 5D mk2 and Canon 28-300L @ 300mm, 1/1000 s at f/5.6 ISO 400.
I was travelling at speed in a bus, and was lucky to capture this classical composition and freeze the motion at 1000's of a sec. on this overcast day.


I entered this image in the "MPA - NATIONAL AWARDS 2009" and
Won an AWARD of EXCELLENCE in the TRAVEL CATEGORY, UK.
*
For more information about these pictures or about us


Click here to contact Us